© Soic Miterne | My grand-father Lucien
Hi, my name is Soic Miterne, the nickname that my family gave me when I was a kid. I was born in Paris and I'm living now in Asia.
The "Netflix" of my life
This website is a cloud dedicated to my archives, I use it to stock and organize my very personal videos and musical works that I wouldn't share on my commercial portfolio. This process of backup became essential when my archives on CD-ROMs from the 90's started to be unreadable.
Paris – Shanghai
The main content of this website is a photo-video diary chronicling the daily life of my friends and family in Paris between 1999 and 2002, then in Shanghai from 2017 until today. A diary introducing videos, slideshows and photos-animation. In order to understand better the timeline of this work, let me tell you some important steps of my life.
80's
I studied art in a conservatory and university thanks to inspiring professors (Pascal Bonafoux, Jean-Louis Boissier, Jean-Claude Moineau, James Durand, Nathalie Lecroc, Philippe Donadini, Serge Dutrieux, Julio Laks…). but everything started in family, where the art was omnipresent, in multiple shapes.
80's – Beethoven, Serge Gainsbourg, Jacques Bodoin
My grand-father – an industrial designer and music lover – was a huge fan of Beethoven's symphonies. My mother listen Elton John, Jacques Brel, George Brassens (french singers) and is a big fan of «Amadeus Mozart», the biopic directed by Milos Forman. My brother introduced three kind of music in my life : 60's rock, jazz and Serge Gainsbourg (a french singer). My father likes the homemade sketch «le violoniste manchot» ("the violonist with one hand only") and is the biggest fan of Jacques Bodoin (the "french Jerry Lewis"), a wonderful influence to love popular and mainstream productions.
1988 – Vinyls & Audio tapes – Ghetto blaster for teddy bear
© Soic Miterne | Myself in my room. On the left-top corner, my first vinyl & audio-tape recorder.
In 1988, I builded a real-fake tiny recording studio in my room. Like a radio host, I broadcast old records on vinyls, design fake ads and jingles, make up fictional shows, and record it on audio tapes. My teddy bear was my first fan.
90's
1995 – CD-ROM, VHS & Playstation
© Soic | 1995
In 1995, I linked my Playstation with a video-tape recorder. I hijack pictures recorded on first CD-ROMs, mixed with various musics. I discovery the power of music : it could be the best friend (or greatest enemy) of visuals.
1998 – Jazz Manouche & Bossa Nova
© Soic | Raphaël Faÿs at Franc Pinot, Paris, October 2000
In 1998, I discovered the virtuoso music of Django Reinhardt and the crazy harmonies of Antonio Carlos Jobim ("Getz/Gilberto" album, 1963). An incredible aesthetic shock, may be the bigger in my life.
1999 – Pentium, 3D & Digital Photography
© Soic Miterne | Video screenshot (work in progress)
In 1999, after the peculiar period of «Dance Club» compilations (one of the dark side of French music), I bought my first personal computer with Pentium CPU, the software LightWave 3D, and the camera Fujifilm MX-1700, one of the first tiny digital camera available for mass market. Thanks this new combination of techniques, I made my first videos and first tests on 3D, photo-animations in stop-motion (photos taken with a "high-speed serial pictures" function) and several other musical slideshows made with photographs taken day-to-day. In the following years, the daily life of my friends and family became the main topics of my video production. Watch all the videos.
2000's
2001 – Nan Goldin exhibition in Paris (Centre Pompidou)
© Centre Pompidou 2001, Photography : Nan Goldin (c) Nan Goldin Studio
In 2001, I discovered the work of Nan Goldin during a retrospective orginazed by Le Centre Georges Pompidou in Paris (Le feu follet, 11th October – 10th December 2001). Second bigger aesthetic shock. Fully hypnotised, I went to the exhibition several times, to watch (and re-watch) photos and slideshows. As a tribute to Nan Goldin, I made a special slideshow named « Ballad of Sexual Independency ».
2001 – Vjing at Nouveau Casino & La Java (Paris)
© Soic Miterne | Alt #5 – Je suis comme je suis – VJing at Nouveau Casino & La Java, Paris, 2001
In 2001, after one of my first photo-animation, Philippe Donadini (artist and professor) offer to me to broadcast some videos during collective exhibitions. A great opportunity to experiment VJing, in two clubs in Paris : La Java and Nouveau Casino.
2002 – Mixtapes for restaurant (Pompougnac country style)

In 2002, the manager of Le Saint-Hubert (a french bistrot) needed a music selection. He said to me : « Make me a big playlist, like the Dj Pompougnac, but in the country style ». Convinced, I proposed some mixtapes specially made to «serve proudly the calf's head». All customers – ofen drunk – will be sensible to this musical proposal, mixing Johann Sebastian Bach, Cypress Hill, Charles Baudelaire, Louis-Ferdinand Céline or Vincent Van Gogh.
2010's
2012 – Electronic Music rediscovery

In 2012, my friend introduced to me the music of Burial, Four Tet and several other artists from the deutch & english electro music scene. The same year, I met a member of GNG, an electronica-pop group from MonsterK7 label. He shared with me his love for the underground electro music scene. As a spectator, I lived my first electro-music experience at Le 6B (an art laboratory at Saint-Denis, near to Paris), at « Villette Sonique » (an electro music festival in Paris), and at Le Grand Palais during the special event « We Love Dynamo ». The music of James Blake, Mouse on Mars, Erol Alkan, Gesaffelstein and Richie Hawtin, in particular, has opened new musical perspective in my mind.
2013 – Tracktor & House parties


In 2013, a friend and co-worker told me about Tracktor, a powerful and useful software dedicated to music mix. I sarted to mix up my favorite tracks, explore mashups and other sample experiments. The «participative» potential of this soft gave me an idea to enjoy with my friends : organize the Monster Sound System, parties included open playlists and free acces to the soft. In sets completly improvised, guests mix their own sounds in live, which made dramatic scenes of mass hysteria.
2014 – 2019 | Mixtapes, SAGB & Music in the Hai
© Soic Miterne | Super Attractive Ghetto Blaster. Photo by Keint, 2015
In 2014, we moved in Shanghai with my friend to work and study, in the mood for doing my first Shanghai Video Mixtapes, a tribute to our life in the Hai. Also, this is where I met the French Dj crew Super Attractive Ghetto Blaster. Playing DJ, organizing parties and creating original content during their free time, they initiated the most famous alternative afterwork parties in Shanghai (SAGB Afterworks) at La Cava then The Cut Rooftop. In 2017, I played with DJ Cavia for the Grand Opening of Café des Stagiaires at Julu Lu Found 158, facing 3000 people during the event. A unforgettable musical moment. In 2016, 2017 and 2018, we played several times with SAGB Shanghai at Bar Rouge Shanghai, Bar Unico Shanghai and Café des Stagiaires Shanghai. Discover all the party video tapes produced during this crazy time.
2020's
2019 2020 – Future memories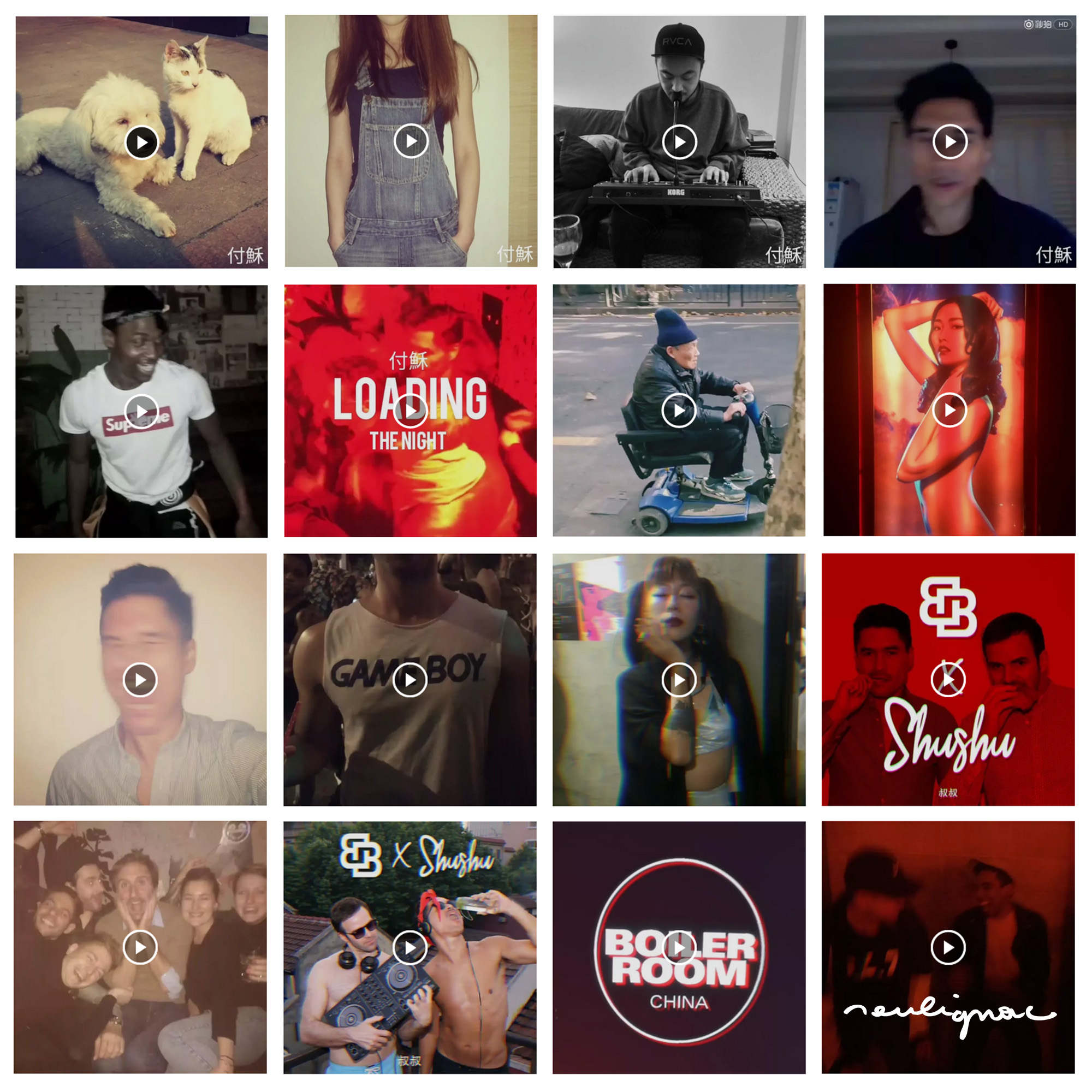 © Soic Miterne – Shanghai Micro Stories. Videos by Francois S., 2017 – 2019
In the flow for this new decade, moving to Saigon for new challenges and exploration, I decided from now to post all my recent and future personal works (videos and sounds) directly on my main portfolio. The objective is to operate a stronger convergence between my personal and commercial works. Discover the Shanghai Micro Stories and my others personal works.
To be continued…
Follow me on Instagram